Big Guide on Radiator Repair and Maintenance
Radiator repair and maintenance is an important part of keeping your vehicle running smoothly in Albuquerque. Unfortunately, some owners overlook this critical component, leading to severe damage and costly repairs.
A radiator's main job is to keep your engine cool. With average summertime temps hovering in the low- to mid-90s in Albuquerque, your radiator can work overtime in the heat. Make sure it receives the attention it deserves to keep your automobile in peak operating condition.
In this big guide on radiator repair and maintenance, we provide a comprehensive guide on how to prevent problems and extend the longevity of your vehicle by taking proper care of its radiator. In this blog you'll discover:
What is a radiator?
What are the signs of a faulty radiator?
What is the importance of radiator maintenance?
What are some common radiator problems?
How do you repair your radiator?
Can you upgrade your radiator to improve performance?
What is a radiator?
A radiator is an essential component of a vehicle's cooling system. Without it, your automobile's engine would overheat and stop running.
Radiators typically are made of thin, metal fins and tubes designed to dissipate heat from the engine coolant that passes through it. Most vehicle manufacturers position the radiator behind the grille at the front of your vehicle so it can receive adequate airflow when the vehicle is moving.
How radiators work
Hot coolant flows through the radiator, transfers its heat to the fins and tubes, and then releases it into the air passing through. This heat exchange process regulates the temperature of the engine and prevents it from overheating.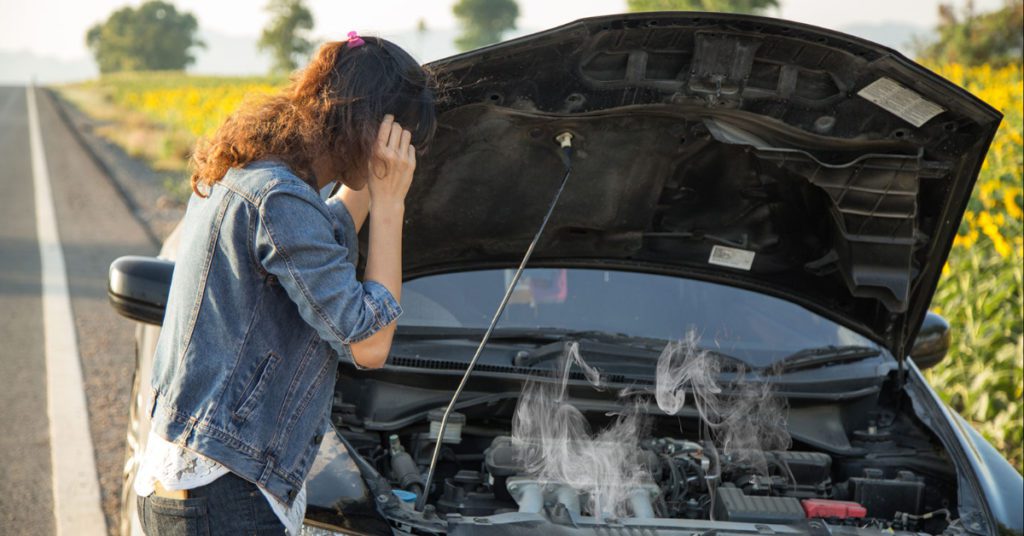 What are the signs of a faulty radiator?
Some people miss the signs of a faulty radiator because they're sometimes difficult to spot right away. Tell-tale signals your radiator is overworked and in need of attention by an automotive technician specializing in radiator repair in Albuquerque include:
Discolored coolant. Over time, the coolant in your vehicle becomes dirty and discolored. If it's rusty or has debris floating in it, that's a sign the radiator has corroded and requires immediate attention.
Leaking coolant. A leak in the radiator or one of its hoses can cause coolant to leak out and reduce the radiator's effectiveness in cooling the engine. If you see puddles of greenish fluid pooling under your car or truck, you'll want to have a radiator repair technician diagnose it immediately.
Overheating engine. One of the most obvious signs of a failing radiator is an overheating engine. If your vehicle's warning systems alert you to an engine that's running hot, it's probably due to a lack of coolant in the engine.
Steam from the engine. If you notice steam or smoke coming from under your hood, it could be signaling a coolant leak.
Unusual noises. Faulty radiators can hiss or make whistling sounds when air or steam become trapped in the system.
If you notice any of these signs, take your vehicle to a radiator repair shop in Albuquerque for further inspection and repair.
How to diagnose a faulty radiator
When you take your vehicle to an automotive technician specializing in radiator repair in Albuquerque, they follow specific steps to diagnose the problem.
Check coolant levels in the radiator and overflow tank to detect any leaks.
Check for blockages in the fins or tubes.
Inspect the radiator cap to ensure it's maintaining the correct pressure in the cooling system.
Test the thermostat to ensure it's functioning properly to prevent coolant from flowing too fast or slow.
Use a pressure tester to check for leaks and other problems.
Radiator repair shops have special tools that can quickly diagnose and repair a faulty radiator so you can prevent the kind of damage that leads to costly repairs.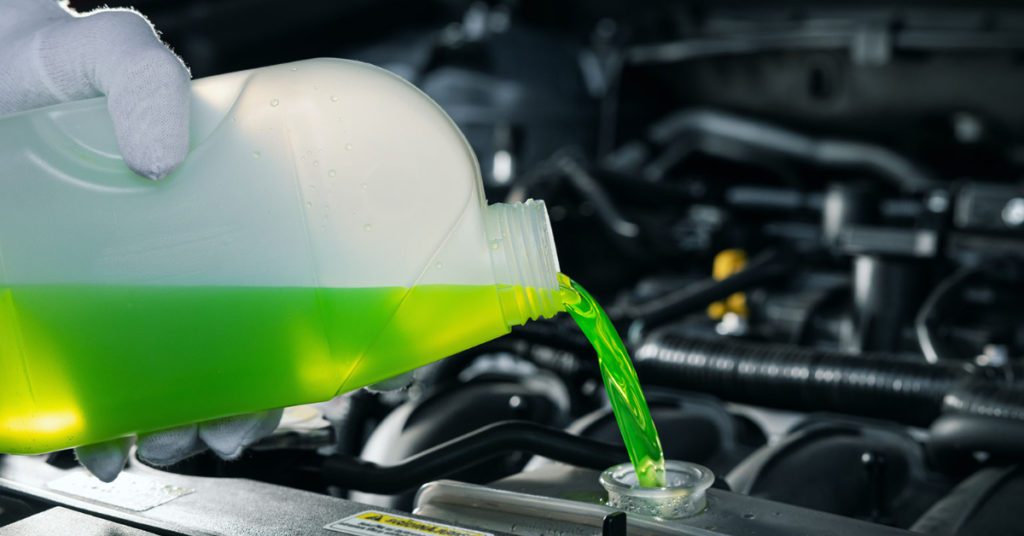 What is the importance of radiator maintenance?
You wouldn't go months without changing your engine oil (at least we hope you wouldn't). Radiator maintenance is just as crucial for keeping your vehicle running smoothly and extending its life.
Some of the reasons why you must have a radiator repair shop inspect your radiator regularly include:
Extends the life of the radiator. Regular maintenance extends the life of your radiator by preventing corrosion, leaks, and other issues that require costly repairs or replacement.
Improves fuel efficiency. When your engine fails to run at the proper temperature, you may find your fuel efficiency suffering. Overheating makes your engine work harder, which means it needs more gasoline.
Prevents overheating. The main purpose of the radiator is to prevent your engine from overheating. When you fail to flush and replace your radiator fluid according to the manufacturer's recommendations, you risk it failing to work, causing expensive damage to the engine.
Following the manufacturer's recommended maintenance schedule keeps your radiator in good working order and your vehicle at peak performance.
What are some common radiator problems?
Some radiator problems are more common than others. The issues you can encounter depend on several factors, including how much care you take to follow the manufacturer's recommended maintenance schedule for your make and model.
If you're going to encounter issues, here are some of the most likely scenarios.
Clogs in the radiator prevent the coolant from flowing through the system correctly. Debris, dirt, and rust buildup all contribute to radiator clogs.
Corrosion is often caused by degraded or old radiator coolant or explosion to harsh conditions. Over time, it causes leaks, clogs, and other problems.
Fan malfunctions prevent the radiator from pulling air through to regulate the temperature of the coolant.
Leaks in the clamps, hoses, and connections are the most common radiator problem.
Radiator cap issues can cause the coolant to evaporate, making it difficult to maintain the correct pressure in the cooling system.
Thermostat failure leads to coolant flowing too fast or slow, which can cause your engine to overheat.
If you experience any of these common radiator problems, take your vehicle to a trusted radiator repair shop for diagnosis and repair.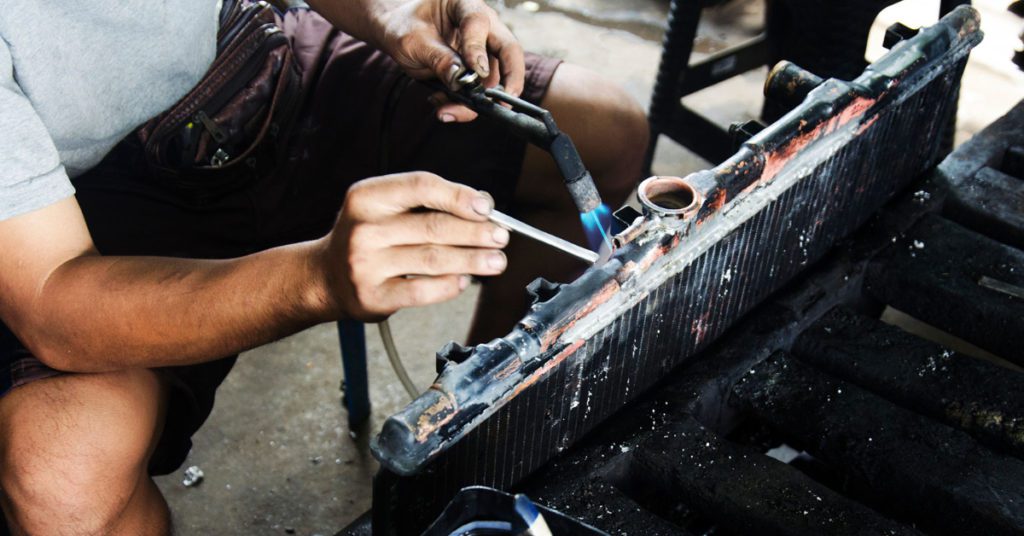 How do you repair your radiator?
How you repair your radiator depends on the type of problem you're having. You can resolve some issues yourself – or apply a temporary fix until you can get it into a repair shop.
One of the simplest radiator maintenance jobs involves a radiator flush. You drain the old coolant from the radiator and replace it with fresh coolant. Most vehicle owners can do this themselves with basic knowledge and tools. However, if you're not comfortable trying it, it's best to leave it to the professionals.
If you discover a leak in your radiator, you can probably slow or stop it completely with a radiator sealant or epoxy. Complicated leaks require the expertise of a radiator repair technician, so make sure you follow up with one to make sure the leak is repaired.
When to seek professional help
Seeking professional help with radiator repairs is required under certain circumstances. For instance, if your radiator fan is malfunctioning, that's a job best suited to an automotive technician specializing in radiator repair in Albuquerque.
Severely corroded or damaged radiators need replacing. This is a complex repair most vehicle owners have neither the knowledge nor the tools to perform themselves. Radiator replacement is a complicated procedure best left to professionals.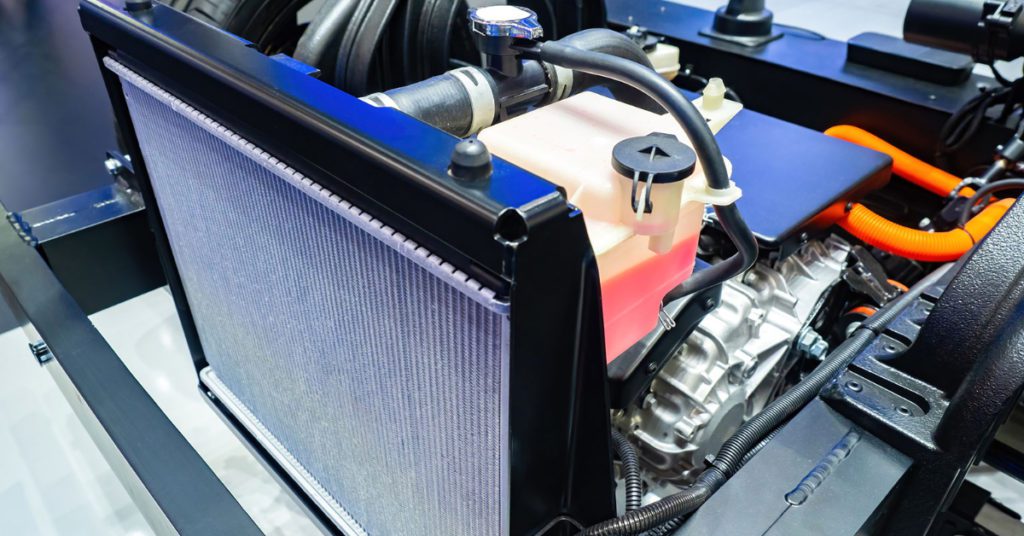 Can you upgrade your radiator to improve performance?
Upgrading your vehicle's radiator can improve performance under certain conditions. Some of the ways that upgrading your radiator can enhance your vehicle's functioning include:
Better heat dissipation. Upgraded radiators may have better designs or materials compared with your original model. Better heat dissipation improves performance by reducing the risk of heat-related issues.
Higher durability. Newer radiators may consist of stronger materials or contain reinforced components that allow them to withstand harsh conditions or heavy usage.
Improved airflow. Some upgraded radiators may have better designs that allow for more improved airflow. Your engine can run at peak performance when it runs at its ideal temperature.
Increased cooling capacity. A larger or more efficient radiator provides better cooling capacity, which prevents overheating and improves your vehicle's gas mileage.
Never try to upgrade your radiator yourself. It's important you make sure the new radiator is compatible with the make and model of your domestic or foreign vehicle. Also, if you have a manufacturer's or extended warranty on your vehicle, performing the work yourself might void it.
Radiator repair in Albuquerque
Need radiator repair in Albuquerque? You can trust Rio Grande Automotive to diagnose and repair radiators for domestic and foreign vehicles.
Our team has the expertise to spot issues before they cause expensive or irreversible damage. Give us a call today to schedule an appointment for diagnosis or repair.